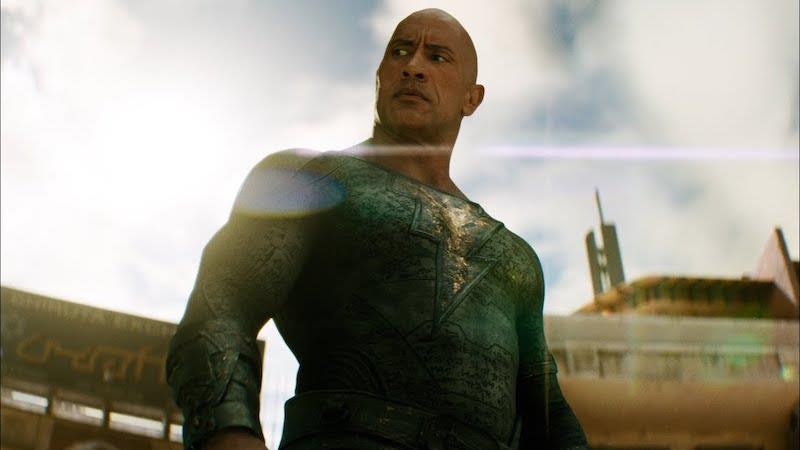 BLACK ADAM: 2 things that worked and 4 things that didn't
black adam arrived in theaters last week, and while fans clearly love it more than critics, it's still a movie with mixed feelings. Whether you love it, hate it, or fall somewhere in the middle, we're sure you'll agree that there were things about DC Comics' latest movie that made and doesn't work.
You can read our review by clicking here, but now we explore the pros and cons of this blockbuster in the making. Box office numbers have been good and all signs point to black adam 2 happens somewhere down the line, but there's definitely room for improvement in the future of this franchise.
From the horrifying supporting characters to the timing and scenes that had us squealing in theater, expect to find points you'll agree and disagree with…and a couple that might surprise you.
Take a closer look at our black adam breakdown by clicking the "Next" button below!
Didn't Work: The Insufferable Supporting Cast
No matter how you felt black adamSurely we can all agree that the movie has one of the most irritating comic book movie supporting casts of all time.
Adrianna Tomaz isn't in love with Black Adam (which is fine), but isn't much use for anything other than wanting to hide Sabbac's crown. She and her son, Amon, are clearly only there to "ground" Black Adam and serve as his entry point into the modern world, but that doesn't work too well and they get way too much screen time.
Add Karim, Adrianna's silly uncle, and that trio does the film a disservice. Remember how boring Darcy was in the first two Thor movies? Multiply that by three and make it three times as boring, and you have the Tomaz family.
It's a shame, but we don't know why anyone thought Black Adam and a boring skateboard kid teaming up to brainstorm slogans were worth including.
Worked: The Rock IS Black Adam
Some fans weren't sure if Dwayne Johnson was the right choice to play Black Adam in the DCEU, but we'd say the actor proves to be the perfect fit for this character here.
Terrific, badass, and full of attitude, Teth-Adam has been one of the funniest new additions to this shared world in quite some time. It's hard not to be excited about his interaction with the heroes and villains of this world, and Johnson makes it easy to buy this character as someone who could fight the Justice League…and potentially win!
Black Adam's jokes rarely work, but The Rock delivers great laughs when needed. Despite this, he never understands the anti-hero and avoids turning him into the full-fledged comedian that the MCU's Thor has become.
Say what you want about this movie…we can't find a bad word to say about Johnson's work on camera, though.
Didn't Work: The Justice Society
We're sorry to have to say this, but the DCEU's Justice Society sucks.
Aldis Hodge is a good Hawkman. Unfortunately, the hero is so serious and uncompromising that it's just not fun to spend time with him. Carter Hall is also surprisingly ineffective and, bizarrely, doesn't win a single fight in Black Adam. Dr. Fate is better, although his powers are described very closely by Doctor Strange and Pierce Brosnan seems to be here purely for the money.
Cyclone's powers are nice to look at, but we don't have anything nice to say about Atom Smasher. He looks like Deadpool, looks like Spider-Man, but has zero charisma and is a chore to spend time with.
This four-person team of two vets and two rookies who hang around Hawkman's mansion and report to Amanda Waller were clearly incorporated into the storyline to make it more exciting. Well, the fight scenes are good…that's about it.
Didn't work: too much. A lot. Slow motion.
Slow motion can work really well in superhero movies, and there are times in black adam when it really enhances what we watch play on screen. To others, however, it's a major downside.
In short, there are too many.
The film's fight scenes all look a bit alike anyway, something that's apparent from the fact that Black Adam's fight with Hawkman doesn't feel like his battle with the goons of Intergang. While throwing in slow motion through all of these battles leads to some cool moments that would otherwise have gone by in a CG blur, it also makes them drag on and on…
Director Jaume Collet-Serra has a pretty decent eye for action but feels out of his depth with Black Adam. Maybe it was just done to appease the SnyderVerse brothers?
Worked: The Mid-Credits Scene…Mostly
We didn't like black adam as much as some of you, but we can agree that the mid-credits scene is pretty cool.
In this, Henry Cavill returns as Superman to confront Black Adam over the fear his presence has created. As Khandaq's new goalkeeper, he could make a major impact on the world stage and is formidable enough that no man can stop him. We don't see what's next, but the prospect of these two battling or battling side by side is incredibly exciting.
The reason we say it works "mostly" is that it's very odd that Superman is working with Amanda Waller. yes, Black Adam can take place before Peacemakerbut even then, the Man of Steel being a rogue for ARGUS doesn't quite fit.
There could be a number of explanations, in all honesty, so we won't worry too much about them. It's just possible to see Cavill back in his place in the DCEU.
Didn't Work: All About the Villain
Marwan Kenzari made a disappointing Jafar in live-action Aladdin reboot, though he showed flashes of being a big baddie. Still, we'd wonder why anyone thought it was a good idea to tap it to play. black adamhe's the big bad guy.
Ishmael Gregor is as generic a villain as they come. He's ready to hurt a child, wants an artifact to become even more powerful than it already is, and ends up transforming into a hilariously gruesome VDX demon. Sabbac is hard to understand and even harder to watch.
Stomping like a character from a video game cutscene, the monster can be strikingly similar to its comic book counterpart, but never really appears real.
Add to that the fact that Gregor wants to go from reigning Khandaq as a mercenary to reigning Khandaq with a bunch of bogus-looking CG skeletons, and we're not sure there's anything good to say. about this guy.