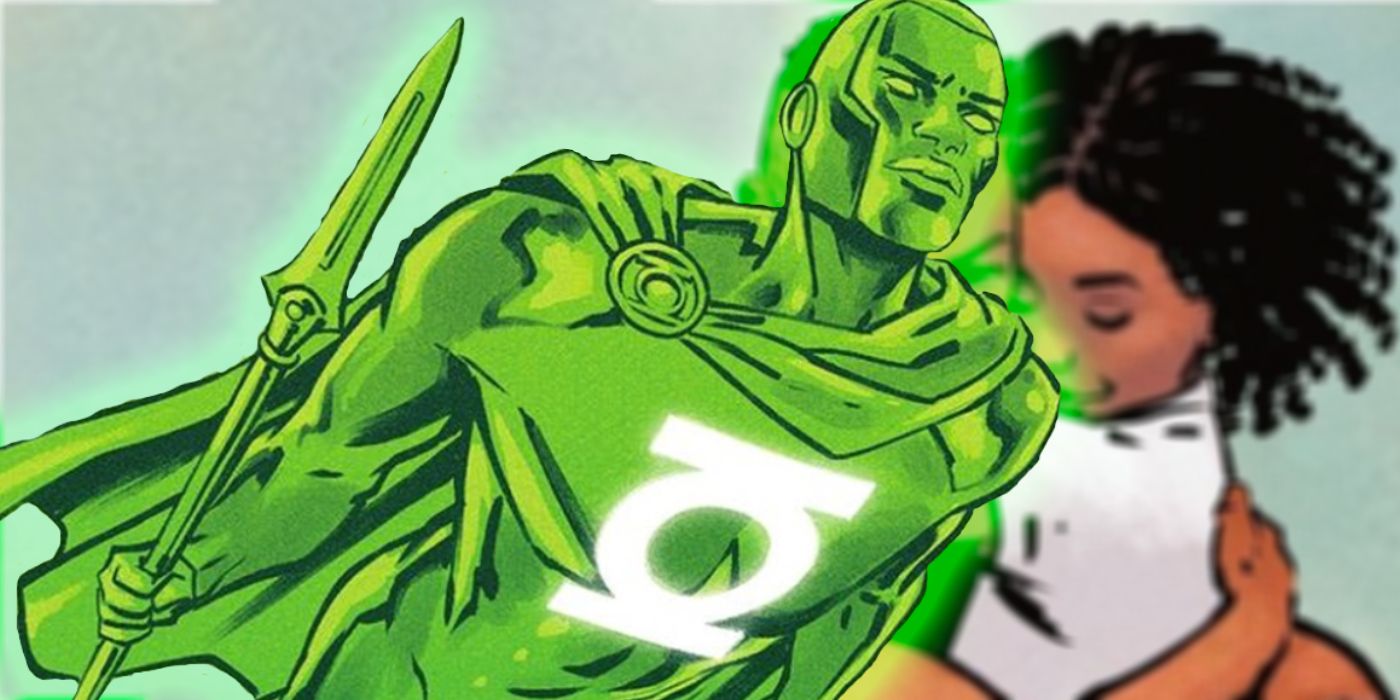 DC Reveals a Shocking Green Lantern Secret
Dark Crisis: Worlds Without a Justice League – Green Lantern #1 by Phillip Kennedy Johnson and Fernando Blanco reveals new secrets about John Stewart.
The following contains spoilers for Dark Crisis: Worlds Without Justice League – Green Lantern #1, on sale now at DC Comics.
Dark Crisis: Worlds Without Justice League – Green Lantern #1 throws John Stewart into a world where he's become the ultimate Green Lantern and his sister, Eleanor, has become the central power bank.
Dark Crisis: Worlds Without Justice League – Green Lantern #1 comes from writer Phillip Kennedy Johnson, artist Fernando Blanco, colorist Jordie Bellaire, and letterer Troy Peteri. The one-shot takes place after the events of Justice League #75, where John Stewart and the rest of the Justice League – except for Black Adam – were defeated and captured by Pariah and his Dark Army. Rather than kill the heroes, Pariah trapped them all on separate planets suited to their personal desires.
RELATED: DC Gives John Stewart's Emerald Knight His First Comic As Former Green Lantern
John Stewart's world sees him play the role of a retired Green Lantern living as a farmer with his mother and little sister. John's mother tells Eleanor a story of how John became "Earth's first and greatest superhero" who formed a team of Green Lanterns called the Watchtower to protect the planet. "One day when [John'd] did what he intended to do, he took his ring off and passed it on," she explains. "He became an architect, as he had always wanted. And now we're all living together in the house he built for us, and he's finally putting up a fence to keep the rabbits out of my flowers."
RELATED: Aquaman Vows Revenge on Justice League Murderer
John comes to join the conversation when suddenly Eleanor's eyes begin to glow green and she delivers a message asking for help from a blind Kyle Rayner. John and his mother then speak privately where it is revealed that Eleanor died years ago and this new version of her was created by John. "They're called the Radiant Dead," John reveals. "They are the ones who killed the Old Guardians. If they had killed the Central Battery as they wanted, there would be no more Corps…probably nothing else either. So I took the battery in Oa, and I hid it… in the form of my little sister. is always her, mom. My memory of her, anyway. She's just…more than before."
John Stewart's place in dark crisis
After receiving Rayner's call, Stewart flies into space to join him, Jason Todd, and a number of other Green Lanterns in a massive battle against an alien enemy. Stewart single-handedly defeats the enemy, causing everyone to hail him as "the Guardian". He returns to the farm and John's mother promises Eleanor that no one will ever try to take him away as long as his older brother is there. However, John and his family may soon have some company, as Hal Jordan is the latest hero to be sucked into one of Pariah's worlds in Dark Crisis on Infinite Earths #3. Upon arriving in the strange new land, Hal is "greeted" by Rayner and Todd before being informed that he has landed on the "John Stewart Sector".
Dark Crisis: Worlds Without Justice League – Green Lantern #1 features a cover by Blanco and a variant cover by Mario "Fox" Foccillo and Prasad Rao [Pressy]. The one-shot is on sale now from DC.
Source: CC