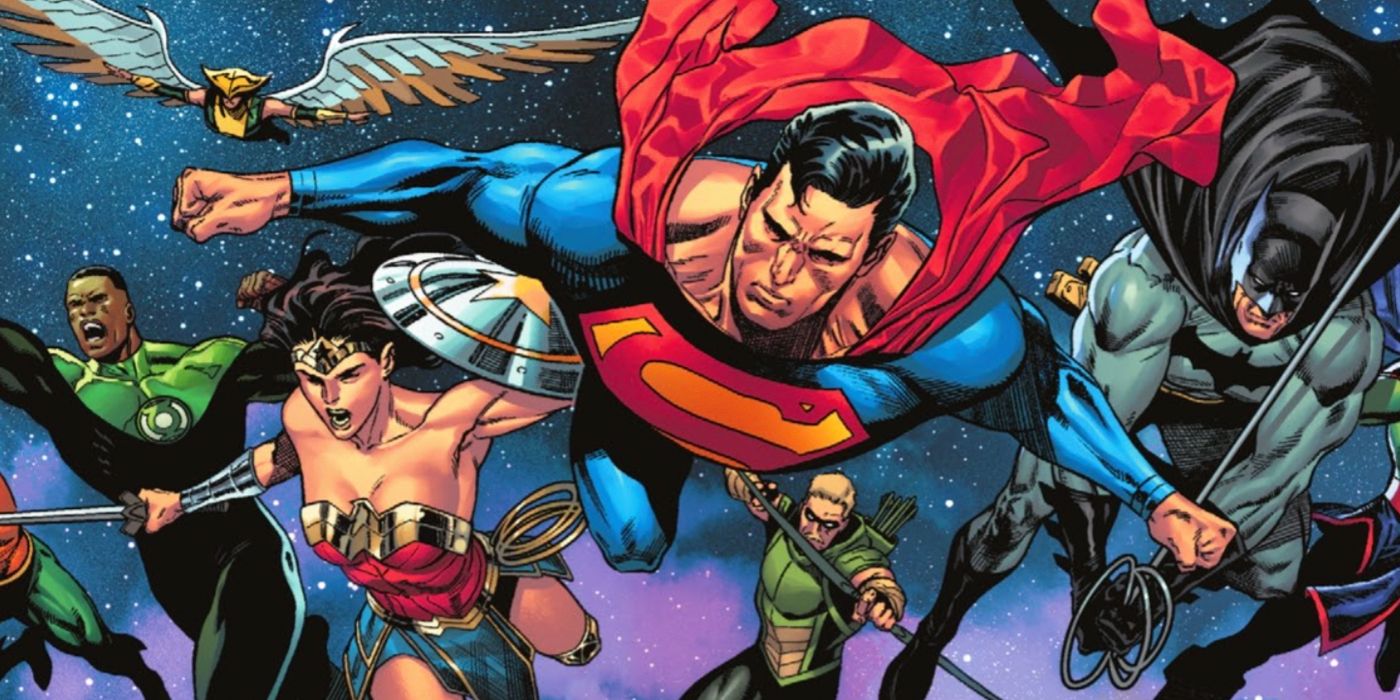 DC Reveals The Justice League Isn't Dead, It Is [SPOILER] In place
The Justice League may not have been murdered by Pariah and the Dark Army in Justice League #75, as DC's synopsis reveals dark crisis– tied to Worlds Without a Justice League: Wonder Woman one-shot – instead, they appear to have been kidnapped and exist in an entirely different reality.
Worlds Without Justice League: Wonder Woman Writer Tini Howard posted a reveal of the upcoming one-shot cover to her substack. Along with showing off a new look for the titular superhero in a cover created by Leila Del Duca, Howard also dropped synopsis information revealing that the Justice League is, at least to some extent, still alive. It reads: "When Pariah and his forces of Great Darkness laid waste to the most powerful superheroes of all time, all hope was lost…until now. To fuel his weapons of war, Pariah has captured every member of the Justice League and trapped them in worlds suited to their every dream and desire…while the planets themselves slowly eat away at their respective inhabitants.As Wonder Woman begins a new chapter in her life , Pariah has uprooted her to a reality he controls: the Amazon Princess adapts? Plus, Dan Watters and Brandon Peterson join forces for a dark tale starring Martian Manhunter! life, there is hope, and with that hope comes a deeper ending to the tapestry of the DCU's biggest event of 2022!
RELATED: Deathstroke Just Killed A MAJOR DC Hero
Members of the Justice League – including Superman, Batman, Wonder Woman, Black Canary, Martian Manhunter and many more – have been transported into space to defend the universe against Pariah and his dark army in Justice League #75. The mission proved unsuccessful, as all members of the Justice League except for Black Adam were defeated and seemingly killed by Pariah during the battle.
Since then, Earth's remaining heroes – including Nightwing/Dick Grayson, Jon Kent, Supergirl, Jackson Hyde and many more – have had to pick up the mantle of fallen heroes and protect the planet from a host of enemies who have decided to capitalize on the absence of the Justice League in dark crisis. Leading the charge is Deathstroke/Slade Wilson, who was recently resurrected in a Lazarus pit and has now begun to unleash a new wrath on anyone who stands in his way.
RELATED: Worlds Without a Justice League Drops New Looks For John Stewart, Kyle Rayner (EXCLUSIVE)
Howard said that Worlds Without Justice League: Wonder Womanwho is one of many worlds without…the DC one-shots coming out this year will dive deep into Wonder Woman's story. "I don't want to give you too much away – so I've kept it vague, but one of my favorite things about writing this story was digging into the incredible Amazon myth that has been established recently by the writers Stephanie Williams and Vita Ayala," she wrote. "Between Wonder Woman's amazing back-up stories that led to Trial of the Amazons to their joint work on books like Nubia and the Amazons, I'm more into their world now than I ever was. They're both doing amazing things there, I was just so excited to be able to build on that mythos in that story."
Worlds Without Justice League: Wonder Woman comes from Howard, Del Duca, Dan Waters and Brandon Peterson, with a cover by Del Duca and a variant cover by Al Barrionuevo and Del Duca. The issue goes on sale Sept. 13 from DC.
Source: substack