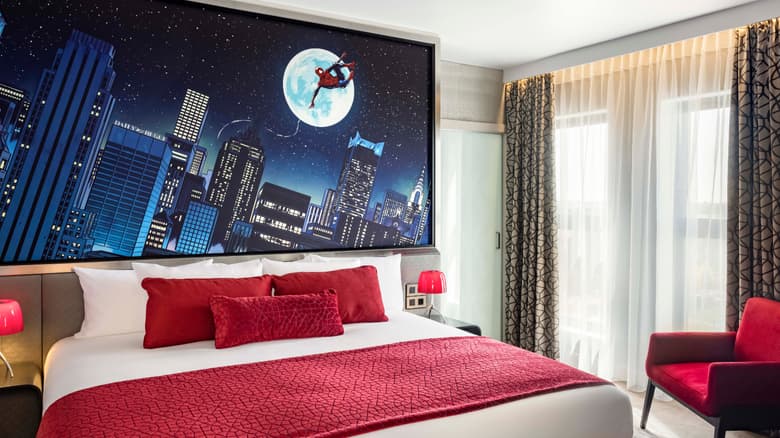 Disney's Hotel New York – The Art of Marvel is now open at Disneyland Paris
AT Disney's Hotel New York – The Art of Marvel, Customers can jump right into the action at exclusive and unique locations.
SUPER-HERO STATION
Guests can pose for a selfie with Spider-Man at the Superhero station, a dedicated space to live this experience Selfie point. AT Marvel photo station, Guests can also take action-packed photos by entering one of the many exclusive photo locations that immerse them in MARVEL movies such as Guardians of the Galaxy, Captain Marvel, Iron Man, Ant-Man, The Avengers, Thor, Spider-Man and Doctor Strange.
WONDER DESIGN STUDIO
Marvel Design Studio, a creative space for families with children, is where every hero can unleash their inner creative genius and learn to be a marvel comic artist with tutorials to draw many inspiring superheroes. In this bright interior space influenced by the Bull pen Marvel animators – where artists draw, ink and color the comics – Guests can find fun and engaging MARVEL artwork, and the little ones can enjoy lots of MARVEL digital activities on dedicated tablets, read some of their favorite comics and create their own adventures with MARVEL toys on display.
HERO TRAINING AREA
The hotel completely reinvents sports and leisure experiences for the whole family, drawing on scenarios from New York and Marvel. While presenting classic sports facilities such as the Indoor and outdoor metro pool (with paddling pool) and a Fitness center, it also presents the unique Hero training area. This 420 m2 outdoor multisport court, inspired by the look and feel of New York and Marvel Super Heroes, offers areas dedicated to activities for children and adults such as basketball, fitness and yoga.
Disney's Hotel New York – The Art of Marvel offers a rich range of food and drink inspired by many New York specialties and one full range of Marvel-themed meals and drinks, including those specially created for children.
MANHATTAN RESTAURANT
Manhattan Restaurant is a contemporary and relaxed restaurant serving modernized traditional Italian dishes prepared with ingredients sourced from Italy. Its design is the perfect example of the fusion between the Marvel universe and New York style codes with its majestic crystal chandelier evoking the Manhattan skyline and Thor's kingdom of Asgard.
DOWNTOWN RESTAURANT
Downtown restaurant is a culinary journey through cosmopolitan New York, with a buffet featuring a mix of specialties and dishes prepared live in front of guests by chefs, alluding to Chinatown, Little Italy and American classics. This is a contemporary restaurant inspired by the art deco era that defined New York City, celebrating the art and tradition of comics with 90 unique works of art on display.
HORIZON BAR
Horizon bar offers fine martini cocktails **, including signature martinis ** and fine drinks, with bites and American treats. It's a chic neighborhood with a slightly formal feel that draws inspiration from Tony Stark's interiors and the Avengers headquarters. Patrons feel transported to the top of a luxury bar in midtown Manhattan via a set of 'panorama windows' offering sweeping views of the famous New York skyline with some Marvel twists.
BLEECKER STREET SALON
Bleecker Street Lounge will look like an elegant living room reminiscent of a downtown Manhattan loft with brick and concrete walls. It will be a subtle nod to Doctor Strange and the Sanctum Sanctorum on Bleecker Street in Greenwich Village. Casual and trendy, it will serve up Doctor Strange-inspired adult and kids drinks, as well as American bites and treats, microbreweries, organic wine, and even hot chocolate.
As Disney's Hotel New York – The Art of Marvel opens its doors, a deliberate approach to health and safety measures is being implemented. Customers are welcome to check www.disneylandparis.com for the most recent information. Packages are on sale, with an exclusive launch offer via the Disneyland Paris call center and the official channels of travel agencies!