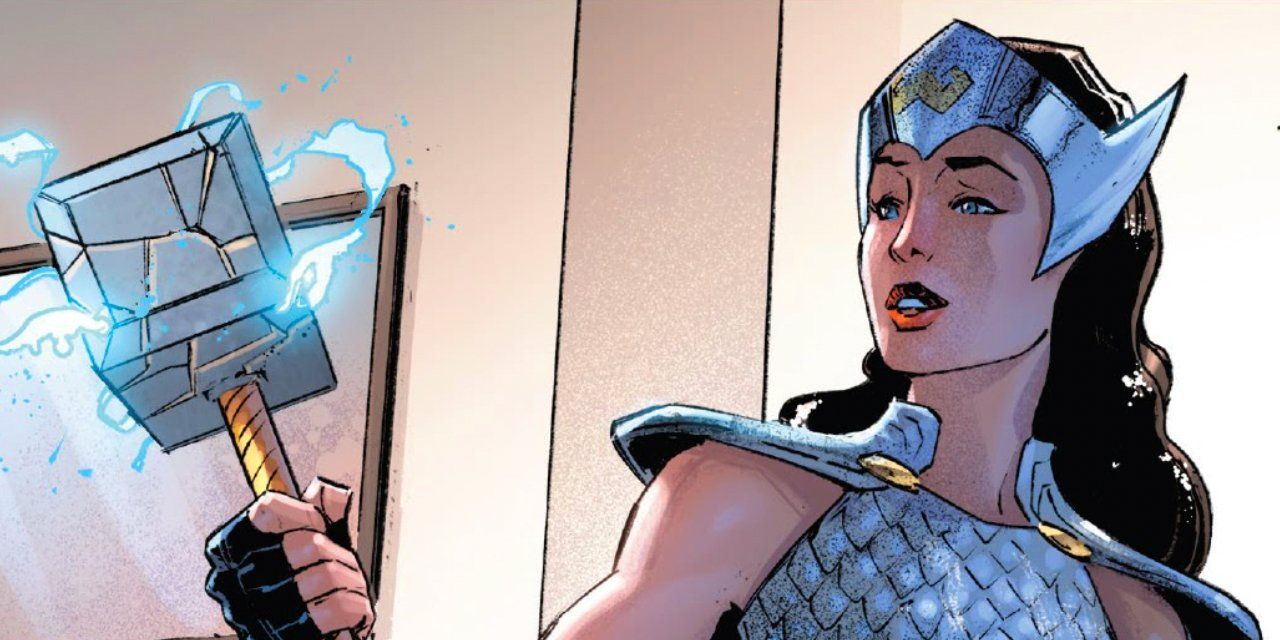 Jane Foster Learns One of Thor's Biggest Secrets
Jane Foster learns one of Thor's biggest and best-kept secrets in Marvel's Jane Foster & The Mighty Thor #1 by writer Torunn Grønbekk.
The following contains major spoilers for Jane Foster and the Mighty Thor #1, available now from Marvel Comics.
By taking up Mjolnir once again, Jane Foster learns one of Thor's greatest secrets that very few other than the God of Thunder himself know.
Jane Foster and the Mighty Thor #1 comes from writer Torunn Grønbekk, artist Michael Dowling, colorist artist Aburtov, and letterer VC Joe Sabino. In the issue, Mjolnir found Jane Foster after Thor mysteriously disappears and Asgard comes under attack from the Dark Elves. Wielding the legendary thunder god hammer again, Jane picks up the weapon and suddenly hears the sound of a familiar voice: Odin.
RELATED: Marvel Reveals Why Jane Foster Is The Mighty Thor Again
Odin previously sacrificed his life in Donny Cates and Nic Klein's "God of Hammers" saga when he transferred the Odin-Force to his son. As the world assumed him dead and Asgard held a funeral for the fallen king at Thor #750, Odin's soul became trapped in Mjolnir after it was revealed that Valhalla is completely empty for reasons that remain unknown. Thor decided to hide the secret from other friends, family, and acquaintances of Loki and Odin. The only other person to learn of Odin's presence in Mjolnir so far is Bruce Banner during Marvel's banner of war crossover event.
Upon taking Mjolnir and hearing Odin's voice, Jane immediately assumes she is losing her mind. "Jane Foster!" Odin huffs in response. "We don't have time for your disbelief… It's me, Odin, and my spirit now inhabits this hammer – but so much for it all! Thor is trapped somewhere. He threw his only defense at you. .. of all people and creatures in the realms, he has chosen you."
RELATED: Thor-Hulk's Path of Destruction Changes Irrevocably [SPOILER]
The last pages of Jane Foster and the Mighty Thor #1 reveals that, despite being missing, Thor is still alive and trapped in a pit with a giant snake. Enchantress has taken a particular interest in finding Thor, and she's willing to let Asgard burn to the ground in order to collect her "reward."
Synopsis information for Jane Foster and the Mighty Thor #2, which premieres July 6, reveals that Jane and Odin will turn to an unexpected source for help in saving the missing god. It reads: "When Jane and Odin find a clue steeped in unknown magic, they turn to Doctor Voodoo to help them find Thor – and uncover an interdimensional threat that will take more than Thor's strength to fight back. Meanwhile, Rْna cuts short her vacation in Midgardian to help the warriors of Asgard repel their enemies' assault on the Golden Realm. But why do their enemies seem to know something that Sif doesn't?
Jane Foster and the Mighty Thor #1 features covers by Ryan Stegman, JP Mayer, and Marte Gracia and variant covers by Carmen Carnero, Nolan Woodard, Taurin Clarke, Martin Coccolo, Matthew Wilson, and Peach Momoko. The issue is on sale now from Marvel.
Source: Marvel