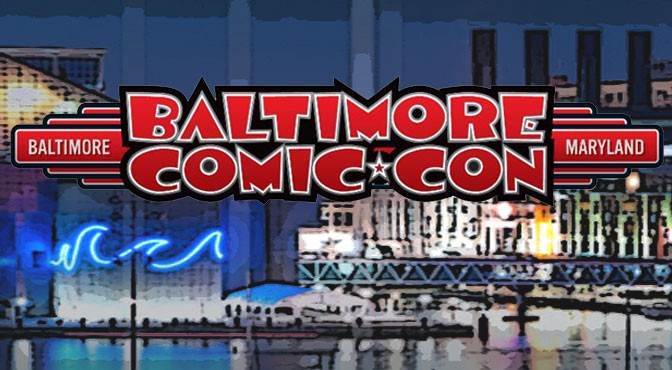 Marvel Entertainment's Joe Quesada arrives at Baltimore Comic Con
The Baltimore Comic-Con returns to the Baltimore Convention Center in Inner Harbor from October 22-24, 2021 for our 22nd annual event. Baltimore Comic-Con is excited to announce the appearance of Marvel Entertainment Creative Director Joe Quesada on Friday, Saturday and Sunday. Tickets for special fan packages are available to meet and hang out with Joe. Tickets for the show can now be purchased online.
Joe Quesada wears many creative hats, both as an acclaimed writer-artist and as the creative director of Marvel Entertainment, the world's largest and most dynamic comic book publisher. In this role, Quesada is the creative leader and steward of iconic characters such as The Avengers, Spider-Man, and Guardians of the Galaxy.
Previously, Quesada served as Marvel's editor for ten successful years from 2000 to 2010 – the longest tenure since Stan Lee himself. During his tenure as editor-in-chief, Marvel experienced a creative boom and went from Chapter 11 to becoming the home of the comics industry's greatest talent, which continues to be true today. hui. As CCO, he brought that same vision to all of Marvel Entertainment, creatively overseeing the worlds of film, animation and television, as well as publishing.
Quesada has served as executive producer on Marvel's Agents of SHIELD for ABC, Daredevil and Jessica Jones for Netflix, Marvel's Hero Project, Marvel's 616 and Marvel's Behind the Mask for Disney +, and Marvel's animation projects, including Marvel's Spider-Man: Maximum Venom on Disney XD.
"We've been working on this for a while now and we're delighted that the planets have finally aligned," said Marc Nathan, show's promoter for Baltimore Comic-Con. "Joe is definitely one of the main contributors to the modern Marvel success story. From his mind-blowing early experiences with Marvel Knights to his role as editor, overseeing initiatives such as Ultimate Universe and Marvel MAX, he has undoubtedly left his indelible mark throughout. We're so excited to have him with us, his fans are going to go wild, and that's just one more reason not everyone will want to miss our 2021 event!
GUESTS 2021
When we return to our live event October 22-24, 2021, confirmed guests for next year's show include: Chris Bachalo (Non-Stop Spider-Man), Marty Baumann (Disney / Pixar), John Beatty (Secret Wars), Brian Michael Bendis (Action Comics), Brett Breeding (Superman), Chris Campana (The Adventures of Parker Reef), Castillo Studios, Howard Chaykin (Hey Kids! Comics!), Cliff Chiang (Paper Girls), Frank Cho (Harley Quinn), Becky Cloonan (Dark Agnes), Steve Conley (The Middle Age), Katie Cook (Nothing Special), Kristina Deak-Linsner (Vampirella: Roses for the Dead), Vito Delsante (Stray), Todd Dezago ( Perhapanauts), Garth Ennis (The Boys, Friday and Saturday only), Trish Forstner (My Little Pony), Kami Garcia (Joker / Harley: Criminal Sanity), Mitch Gerads (Mr. Miracle), Joe Giella (Green Lantern), Gene Ha (Mae), Dean Haspiel (The Red Hook), Jamal Igle (Wrong Earth), Chris Kemple (Artist Alley Comics), Tom King (Batman), Joseph Michael Linsner (R ed Sonja), Howard Mackie (Ghost Rider: Return of Vengeance), Bob McLeod (New Mutants), Carla Speed ​​McNeil (Finder), Pop Mhan (Aquaman Annual), Frank Miller (Dark Knight III: The Master Race, Saturday only), Terry Moore (Strangers in Paradise), Mark Morales (The Next Batman: Second Son), Jerry Ordway (The Power of Shazam), Richard Pace (Second Coming), Tom Palmer (Hawkman), James Pascoe (Azrael), Andrew Pepoy (Simone & Ajax), David Petersen (Mouse Guard), Brandon Peterson (Sinestro: Year of the Villain), Joe Quesada (Daredevil), Tom Raney (Guardians of the Galaxy), Amy Reeder (Wonder Woman: Black and Gold ), Afua Richardson (Omni), Craig Rousseau (The Perhapanauts), Alex Saviuk (Web of Spider-Man), Doc Shaner (Strange Adventures), Louise Simonson (Power Pack), Walter Simonson (Ragnarok: The Breaking of Helheim), Matt Slay (Equilibrium), John K. Snyder III (Killers), Joe Staton (Dick Tracy), Brian Stelfreeze (Black Panther), Jill Thompson (Scary Godmother), Timothy Truman (Gri mjack), Brian K. Vaughan (Saga, Friday and Saturday only), R obert Venditti (Hawkman), Mark Waid (Dr. Strange), Emily S. Whitten (The Underfoot), Matt Wieringo (Stargate Atlantis: Gateways), Keith Williams (Thor the Worthy), Rich Woodall (Electric Black), Gene Luen Yang (Superman Smashs the Klan) and Thom Zahler (Amour and capes).
Related