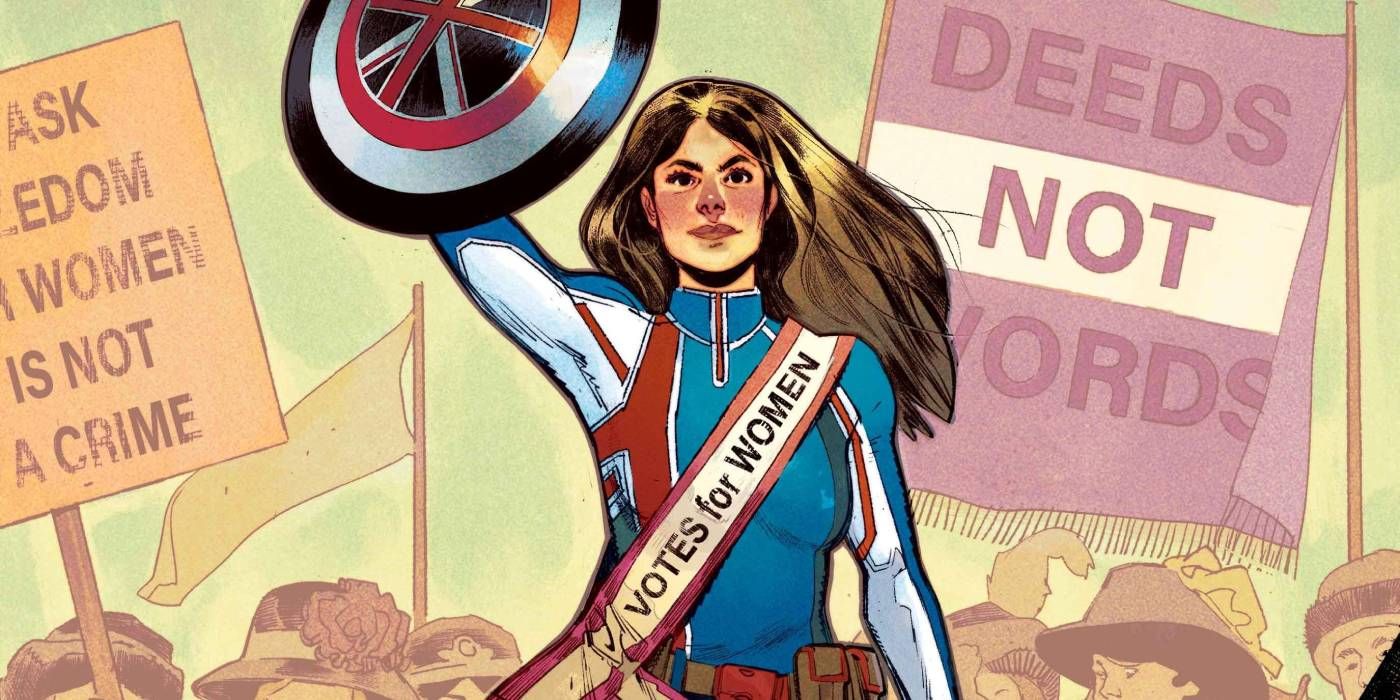 Marvel Heroines Celebrate Women's History Month With New Comic Book Covers
Variant covers released for March feature Emma Frost, Sersi, Magik, and Captain Carter in poses that pay homage to influential women in history.
Like women's history month approaches in March, Marvel Comics famous with new variant covers. The released variants feature Emma Frost, Sersi, Magik, and Captain Carter in poses that pay homage to influential women in history.
Over the years, Marvel has celebrated months commemorating the history of various groups of people by releasing variant covers. As Women's History Month approaches, there's a large pool of artists to draw from, with many iconic female characters from the X-Men to the Avengers. The Marvel Universe is home to a wide selection of female heroes, including Black Widow, Captain Marvel, She-Hulk, Elektra, Rogue, and many more.
Related: Elon Musk Could Actually Be Our Iron Man (According To Marvel Lore)
Marvel Comics has unveiled four new variant covers set to release in March for Women's History Month. Each cover features an illustrated Marvel heroine to pay homage to iconic women in world history. Emma Frost, Sersi, Magik and Captain Carter pay tribute to Cleopatra, Joan of Arc, Queen Elizabeth I and the British suffragettes. Two more variant covers by artists Karen Darboe and Jan Bazaldua are slated for release in the coming weeks, coinciding with the comics' release in March.
The variant of Betsy Cola for X-Men Unlimited: Latitude #1 presents Magik in the style of Joan of Arc, with the variant of Ema Lupacchino for Immortal X-Men #1 spotlighting Emma Frost posted as the queen. Rian Gonzales' portrait of Sersi pays tribute to the Egyptian queen for Eternals #10. Sara Pichelli's take on Captain Carter for Captain Carter #1 shows her leading an uprising of suffragettes posed behind her. With most titles commemorating the month serving as early issues, the variants make it more appealing for fans to check out the new series. The Captain Carter variant is practically a mission statement for what readers can expect from her title, as the inspirational hero she has proven herself to be.
Since the other two titles that will feature variations for Women's History Month have yet to be announced, fans can only wonder which heroes they will include. Other ongoing X-Men titles have plenty of female characters that would be suitable for a tribute variant. However, Daredevil: Fearless Woman would be a great chance for the artist to use the new female Daredevil, as Elektra has stepped into the role. Marvel Comics is expected to announce the other variant covers in the coming weeks in preparation for Women's History Month. X-Men Unlimited: Latitude #1, Immortal X-Men #1, Captain Carter #1, and Eternals #10 will be released on Wednesday, March 9.
More: Captain Marvel's Monica Rambeau Comes To The Rescue In New Cover
Source: Marvel Comics
Kakashi Hatake Cosplay Brings Naruto's Sixth Hokage to Life
About the Author