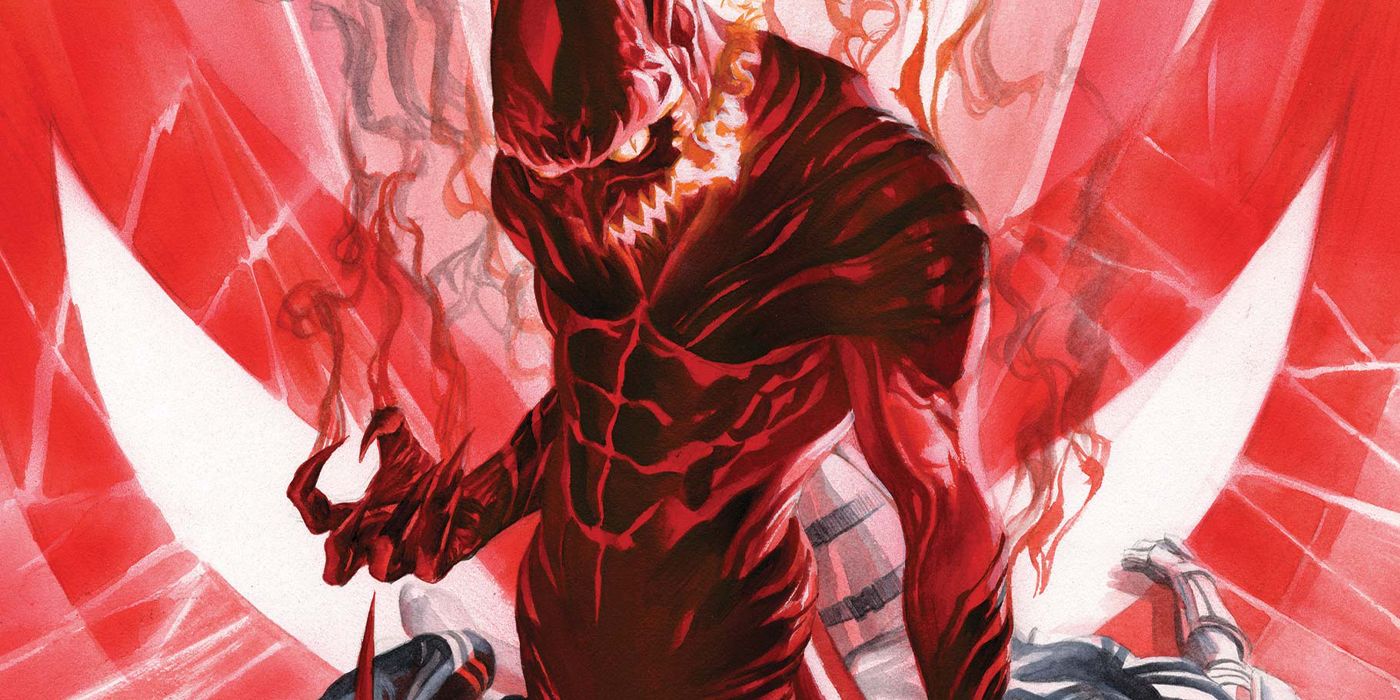 Spider-Man's Red Goblin Gets a Very Different New Symbiote Suit
Free Comic Book Day 2022: Spider-Man/Venom #1 reunites Dylan Brock with Normie Osborn and returns a Spider-Man villain to Marvel Comics.
The Amazing Spider-Man's Red Goblin returns with a new look in Venom.
On Free Comic Book Day, Marvel Comics released a new one-shot, Spiderman/Venom #1, with the Venom half featuring a reunion between Dylan Brock and Normie Osborn. Both have a history dating back to 2019 Absolute carnage event, which is when they first met. In the new issue, Dylan asks Normie to help save his father, Eddie Brock, and gives Normie back his own symbiote, but with a new color scheme this time.
RELATED: Venom Is MJ's X-Men's Hellfire Gala Date in Stunning Mark Brooks Fan Art
It is unknown which symbiote Dylan gives Normie, though it is likely from the Alchemax facility Dylan was recently trapped and experimented on. The red and white color scheme is very similar to the Andi Benton-related Silence symbiote, which first appeared in 2021 extreme carnage Event. Another question is whether history will repeat itself with Normie and Dylan and whether they will remain friends or foes.
While Norman Osborn was bonded to the Carnage symbiote as a Red Goblin, one of the most unsettling things he did was force Normie to bond with Carnage in The Amazing Spider-Man #799, turning him into "Goblin Childe". It was hinted that part of the symbiote lingered in Normie's system after being removed, leading to its introduction to Dylan. The two met during Absolute Carnage while the Creator deleted the codices (enduring traces of symbiotes) of individuals who were once bonded to symbiotes, as they were all targeted by Carnage. After that, Dylan and Normie lived together for a while, but Normie said they were no longer friends in Web of Venom: The Good Son #1 after a bad fight they had, something the Free Comic Book Day issue rectifies.
RELATED: Marvel Teases a Dark Spider-Man/Venom Development
Following the departure of VenomThe former creative team of , writer Donny Cates and artist Ryan Stegman, a new series for the character launched in November 2021, led by writers Al Ewing and Ram V. and artist Bryan Hitch. The series resumes the status quo left by Venom #200, with Eddie serving as King in Black (god of symbiotes) and Dylan bonding with Venom to become the world's last mortal protector.
The story of the "Seven Seals" of Free Comic Book Day 2022: Spider-Man/Venom #1 is written by Ram V. and Ewing with art by Stefano Raffaele, color by Alex Sinclair, and lettering by Clayton Cowles of VC. The issue is now available for free at local comic book stores.
KEEP READING: Could Venom's Latest Form Be Even Stronger Than The King In Black?
Source: Free Comic Book Day 2022: Spider-Man/Venom #1
How Doctor Strange in the Multiverse of Madness Sets Up a Sequel
Read more
About the Author