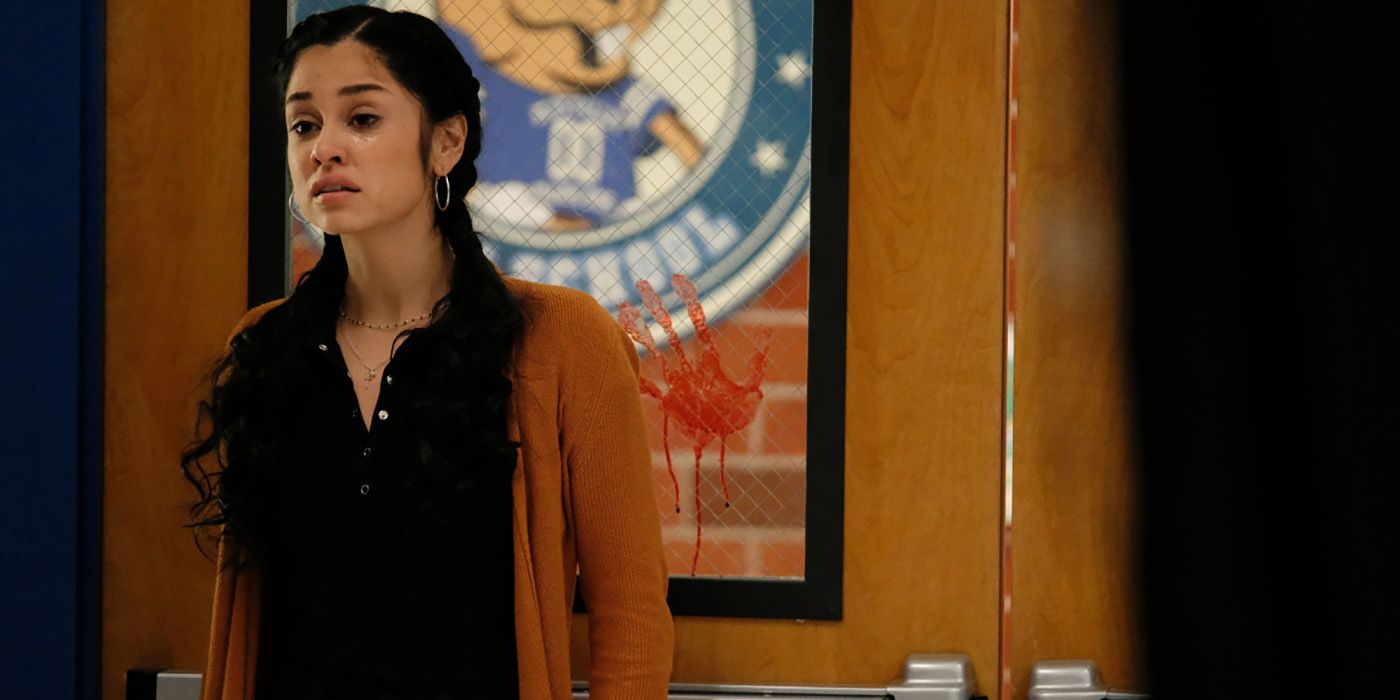 Yvette Monreal reveals Yolanda's 'heartbreaking' decision
SPOILER WARNING: This article contains major spoilers for "Summer School: Chapter Seven," the latest episode of DC's Stargirl.
Yolanda Montez is no longer Wildcat. In "Summer School: Chapter Seven", the last episode of DC Stargirl, Yolanda left the Justice Society of America, but she did not make this decision on her own. Throughout the episode, Eclipso haunted her with visions of the two people whose deaths she feels responsible for: Brainwave and Henry King Jr. This brought her to her breaking point, causing her to fall apart. take it to Courtney and get away from the life she had. built with his JSA teammates.
Speaking to CBR, Star girl star Yvette Monreal overturned Yolanda's "heartbreaking" decision and everything that led to it. She recalled the joy of working with Christopher James Baker and Jake Austin Walker again, as well as the "emotionally exhausting" scenes she filmed with them. She explained why this episode's cliffhanger had her "on edge" and how Yolanda now sees Eclipso's impending threat. She also teased Yolanda's fate, shared her dream story arc for the character, and more.
RELATED: Stargirl: Yvette Monreal Finds Redemption And Understanding For Yolanda Montez
CBR: What was it like having Christopher James Baker and Jake Austin Walker back on set for this episode?
Yvette Monréal: It was the best! We missed them so much. They are so talented. They are so much fun to be around, just offscreen and onscreen. It was really fun. Yeah, honestly, it was so good to see them again. It was very nostalgic. We love to work with them. They are great and great people and they are great actors. They bring so much energy to the room. It was so much fun, I have to say.
Yolanda was haunted by the idea of ​​what she did, but now she's confronted with these hyperrealistic visions of the people whose deaths she feels responsible for. What does it do to his mental state to move forward?
Well, she feels like it might be a punishment from God because she committed this huge crime. She feels like she's going crazy. There is Brainwave now, which she sees. So she feels like it's a punishment from God. So she feels like she sees all these things because God is doing this to her.
So it's really taken its toll on her, on her sanity, and she doesn't know how to approach it, which is why she's relying so much on her faith this season and why she's trying to seek redemption and rationale for things that she finished.
RELATED: Stargirl: Eclipso Visits Yolanda in Exclusive Clip
What part of this very emotional and action-packed episode was the most difficult for you to film?
Well the thread work was fun. I did some wiring work in the church. It was awesome. But most of the time, my stuntman does most of this.
I think emotionally it got a bit exhausting when I was doing all the scenes with Henry and Christopher Baker, because I had to be there and it was like a 3 hour day when I was doing all the scenes with Jake and with Christopher Boulanger. So it was a long day. I think keeping that emotion real and raw and keeping it on the same level all the time was very exhausting.
But it was a good reward at the end of the day, because I really enjoy this episode. I take pride in my work. But yes, emotionally draining.
The episode definitely builds on that, but I was really surprised when Yolanda decided to leave the JSA. What was your first reaction when you heard about it?
Wasn't that so sad? I saw the episode and I was like, "Oh my God!" It was so awesome. I love these scenes between Courtney and me but I was really shocked. I was actually having dinner with a few of my cast mates and Geoff [Johns] and he was just like, "Oh, yeah, by the way, it's gonna happen."
So when he told me, I was really shocked, and I was like, "Oh my God, what's going to happen to me now ?!" I didn't know what was going to happen to me! The episodes kept coming out every week and I was like, "What's going to happen?" I was on edge!
You know, there's everything in the comics. Eclipso is doing really bad things to Beth and Yolanda, so I was really worried it could happen. So I mean, cliffhanger: we don't know what's going on. I can't really say it, but I was really scared for Yolanda's life. It was sad for me. It was heartbreaking.
RELATED: Stargirl: Is The Shadow Really Gone?
How worried should fans be about Yolanda now that she has sequestered herself from the rest of the squad?
Well, I mean, I think she's focusing on herself, on her sanity right now. She kind of wants to pretend it's not happening, even though we all know what's going on … Eclipso is no longer my priority. It is for the other members of the JSA. We will stop there.
As you mentioned, you filmed a very intense scene with Brec Bassinger for this episode. How was it for you?
Oh, yeah, we were filming that at church. I remember it was very moving. It was really cool, because Brec is one of my best friends and the emotions I was feeling at the time were really easy to find. I mean, honestly, working with Brec is always great. It's always a good time.
But also, yes, I was sad for me too, because I could really bring the emotion to leave the JSA. Like I said, I didn't have any of the future scripts so I didn't know what was going to happen with my character. So it was really heartbreaking. It was one of my last days of filming for this episode, so it was really easy to spark that emotion.
RELATED: Stargirl's New Villain Mocks Everyone Else
What is one of your favorite memories from filming this season?
Oh, man, I really enjoyed that last episode 6. I mentioned it earlier, but we spent a lot of time on set, but when I'm on set I'm so happy! We spend days together, with my friends, with Brec, with Meg [DeLacy] and Anjelika [Washington] and everyone, so I'd say shoot episode 6 and watch my stuntman do all those cool stunt moves. It was very fun. I really enjoyed filming the episode 6 stunt sequences. It was so much fun.
What would be your dream story arc for Yolanda?
Really, I would love to see her become a journalist and follow the comics a bit and see her transform into this woman with a lot of confidence and explore that side of the comics. I really like that they stay true to the comics. So honoring that and exploring it some more would be great for me. I would like to. It reminds me a bit of a few movies that I grew up with. So that would be fun.
Stargirl airs Tuesdays at 8 p.m. ET / PT on The CW.
KEEP READING: Stargirl: Nick Tarabay Promises Eclipso Won't Be Easy To Defeat
What time Star Wars: Visions releases on Disney +
About the Author